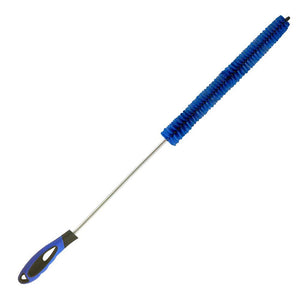 Use the Ettore Dryer Vent Cleaning Brush to keep your dryer vent clean to save energy and better dryer performance operation. The long brush makes it easier for reaching and cleaning. The wire body is guarded with a plastic sleeve to prevent scratching surfaces. This can also be used under furniture and appliances.
Dryer Vent Brush Details:
Designed to remove lint from clothes dryer also ideally for washers and air vents

The wire body is coated to prevent scratches on surfaces; flexible galvanized steel shaft

Ergonomic soft grip handle; non-slip handle, also includes hanging hole for easy storage

Keep dryer vent cleaner and save energy with better dryer performance

Weight: 0.306 lbs

Measures: 1.75 D x 2.75 W x 31 H inches

Also Available At: Amazon
"As an Amazon Associate Ettore earns from qualifying purchases."