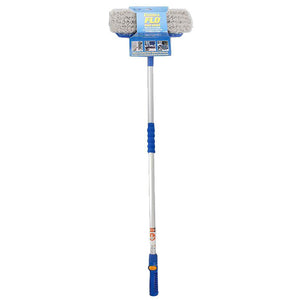 Ettore's Extend-A Flo multi-purpose, flow thru wash brush. You can reach everything in sight - windows, screens, awnings, siding, cars, boats and RV's. All with one easy-to-use cleaning tool, without need for a ladder. Simply attach it to a garden hose and nothing beyond the cleaning power of Ettore.
Extend A Flow Details:
Extend-A-Flo Wash Brush; Pole extends up to 6 feet and the Brush is 10 inch 

The brush has soft bristles safe for clear-coat paint

Built-in shut-off valve (on-off switch)

Pole has a foam grip for comfort and easily attaches to a standard garden hose

Weight: 2.3 lbs

Measures: 5 D x 10 W x 45 H inches

Also Available At: Amazon
"As an Amazon Associate Ettore earns from qualifying purchases."